All Boats and Caravans - WA Perth
4 Hocking Road
Kingsley
Perth WA 6026
AUSTRALIA

All Boat Business is owned & operated by three West Australian's.
Maz Yahiya – Dealer Principal, heads the boat sales team. You'll find Maz personable and upfront . "We're always ready to talk business"
Quentin Fisher – Controls the service division, Quentin's meticulous and thorough skills are a positive influence throughout his department. "Want it done properly?"
Bruno Iemma – Captains the chandlery and accessories branch. Bruno's nautical knowledge and electronic skills flow through his department. "If we don't know, then it's not nautical".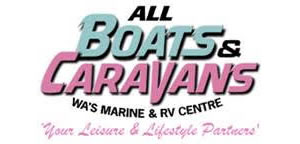 | New Power Boats | Feet | Metres | Year | Price | |
| --- | --- | --- | --- | --- | --- |
| Bar Crusher 535c 2018 New - Floorstock Clearance | 17' 7" | 5.35m | NEW | AU $54,990 | view |
| Surtees 610 Gamefisher (2019) | 20' 0" | 6.10m | NEW | AU $89,990 | view |
| Whittley Sl 20 | 20' 0" | 6.10m | NEW | AU $72,500 | view |
| Whittley Sl 22 | 22' 0" | 6.71m | NEW | AU $98,500 | view |
| Surtees - New Wa Dealer | 24' 7" | 7.50m | NEW | AU $60,000 | view |
| Whittley Sl 25 Ht Demo | 25' 0" | 7.63m | NEW | AU $139,990 | view |
| Used Power Boats | Feet | Metres | Year | Price | |
| Quintrex 390 Explorer Explorer 390 | 12' 10" | 3.90m | | AU $4,990 | view |
| Tattoo Boats Navigator 4.27 | 14' 0" | 4.27m | 2015 | AU $16,990 | view |
| Polycraft 4.55 Centre Console | 14' 11" | 4.55m | 2004 | AU $13,500 | view |
| Quintrex 460 Freedom Sport Bowrider | 15' 1" | 4.60m | 2007 | AU $24,990 | view |
| Sea Ray 185 Sport | 15' 5" | 4.70m | 2008 | AU $25,900 | view |
| Savage 480 Envoy New Listing | 15' 9" | 4.80m | 2004 | AU $19,990 | view |
| Stacer 489 Seahorse | 15' 9" | 4.80m | 2017 | AU $22,900 | view |
| Quintrex 485 Fishseeker | 15' 11" | 4.85m | 2005 | AU $22,990 | view |
| Trailcraft 500 Runabout | 16' 5" | 5.00m | 2002 | AU $20,990 | view |
| Fraser 520 Runabout | 17' 1" | 5.20m | 1999 | AU $12,990 | view |
| Haines Signature 530br | 17' 5" | 5.30m | 2004 | AU $22,990 | view |
| Stingray 185ls | 18' 0" | 5.49m | 2006 | AU $19,990 | view |
| Crownline 180 Br | 18' 0" | 5.49m | 2006 | AU $22,990 | view |
| Four Winns 180 Br | 18' 0" | 5.49m | 2007 | AU $19,990 | view |
| Blaxell Surf Rider 5.5m | 18' 1" | 5.50m | 2011 | AU $16,990 | view |
| Yalta Craft 555 | 18' 1" | 5.50m | 2003 | AU $29,990 | view |
| Quintrex 560 Freedom Sport | 18' 4" | 5.60m | | AU $37,990 | view |
| Quintrex 560 Freedom Sport New Listing | 18' 4" | 5.60m | 2008 | AU $30,990 | view |
| Stacer 579 Sportster | 19' | 5.79m | 2008 | AU $25,990 | view |
| Caribbean Intruder New Listing | 19' 0" | 5.80m | 1998 | AU $28,500 | view |
| Chris Craft Speedster | 19' 0" | 5.80m | 2007 | AU $56,500 | view |
| Southwind Ub580 New Listing | 19' 0" | 5.80m | 1996 | AU $14,990 | view |
| Wellcraft 187 Eclipse | 19' 0" | 5.80m | 1990 | AU $14,990 | view |
| Custom Tri Hull 6m | 19' 8" | 6.00m | 1996 | AU $28,500 | view |
| Whittley Cr 2080 | 20' 0" | 6.10m | 2013 | AU $49,990 | view |
| Stejcraft 640 Monaco | 21' | 6.40m | 2001 | AU $26,990 | view |
| Whittley Cr 2180 | 21' 0" | 6.41m | 2008 | AU $35,990 | view |
| Dolphin Centre Console 21' | 21' 0" | 6.41m | 2008 | AU $39,990 | view |
| Whittley Cruisemaster 700 | 23' | 7.00m | | AU $49,990 | view |
| Whittley Sl 26 Ht | 23' 11" | 7.30m | | AU $102,000 | view |
| Sea Ray 240 Sundancer New Listing | 24' 0" | 7.32m | 2003 | AU $53,500 | view |
| Leeder Tomcat 240 | 24' 0" | 7.32m | 2002 | AU $43,990 | view |
| Peter Milner Formula 233 Centre Console | 24' 3" | 7.40m | 2007 | AU $110,000 | view |
| Leisurecat 8000 Sportsfisher | 26' 3" | 8.00m | 2009 | AU $110,000 | view |
| Glacier Bay 2685 Coastal Runner | 26' 3" | 8.00m | 2007 | AU $109,500 | view |
| Deepwater 28 | 28' 0" | 8.54m | 1989 | AU $9,990 | view |
| Whittley Cr 2800 Cruiser | 28' 0" | 8.54m | 2008 | AU $89,990 | view |
| Venom Fastlane 30 | 30' 0" | 9.15m | 2005 | AU $61,000 | view |
| Savage 195b Bowrider | 59' 1" | 18.00m | 2010 | AU $20,990 | view |