Usage
Family, Cruising, Live Aboard
Description: Hunter Legend 433
A good example of these very capable blue water cruisers. She comes with two large private cabins, each with heads and showers, full office cabin with desk, work bench and loads of storage and a very comfortable salon. A current survey is available on request.
SV Orpailleur is a serious blue water cruiser. Recently she has had approximately $30k spent on various upgrades including a new inner forestay and new sails all round.

Orpailleur (pronounced Or-Paye-yer) is French for Gold panner. She was built in 1991 in the days when they made very solid heavy cruising yachts. She weights 17 tonne dry and around 19 tonnes laden including a poured lead keel. She is exceptionally solid but thanks to the wing keel and the modern hull shape she is a fast vessel. She can average 6 to 8 knots comfortably in most conditions. To make this vessel they combine 3 molded sections; the hull, the internal section and the top section. This is all bolted together on the edge forming a water tight hull (see the Hunter videos).

The living space is quite exceptional and many people comment on how spacious is the central area. Clever use of the seats and floor area helps in this regard.

Here is a list of the items aboard the vessel.

Safety
Para Anchor 18m custom made for the vessel in 2008
Drogue
Zodiac Life raft 6 man, out of survey
Fire bucket
Fire blanket
4 extinguishers
Flares
Flare Gun and flares
First aid kit including regulator for Oxygen bottle (hired from BOC)
KTi SA1G GPS EPRIB
GME 406 MHz Epirb
old 204 MHz Epirb
7 inflatable PDF including child's and automatic units.
Throw bag
life ring plastic
Foam rescue ring
Safety attachment gear for moving forward
Emergency steering pole
Smoke alarms 2
Carbon Monoxide alarm
external gas shut off.
Safety Grab bag
Water proof bum bag for night watch
Spot light powerful torch

Miscellaneous
Industrial sewing machine Innovation mini walking foot
Considerable quantity of cloth and sail material for repairs and constructions
Christmas lights
Water hose and assorted fittings including for direct connection to pressured system.
Cruisair in built air conditioning and heating system (110v)
Wine cellar with special padded wine sleeves
Surround sound stereo
Digital TV Panasonic 110V/12V
DVD player 240V/110V
Cockpit instrument cover
Numerous ropes for pontoon ties or canal traverses
Viewing bucket
Collapsable bucket
West Marine steps
Solar heater water bag
clothes basket and pegs
Bosun chair
Barometer and clock
Vacuum cleaner 110V
Cruising guides for Queensland, Whitsunday, Caribbean
Bound blog of the Florida to Townsville trip
5 fenders
4 boat hooks
1 deck cleaning brush
Solar light
1 8kg LPG gas cylinder for BBQ 4 Diesel Jerry containers, 2 water drums and 1 ULP jerry container

Propulsion
Yanmar 4J 1991
3 blade fixed propellor
spare 2 blade propellor
separate starting battery
spare alternator
Engine box mounted thermal trigger extinguisher
140 L fuel tank
spare fuel lift pump
spare drive belts for main and generator
5 spare oil filters
Oil suction pump
4 spare fuel filters both fine and course
Hand held infra red heat gauge

Tender
Caribe 3.2m 2007 model
Tohatsu 18hp 2 stroke, New May 2012
Safety kit with V sheet, flares, paddles, tool kit, ponchos, pfd type 2 lifejackets.
Anchor with 3m chain and 25m rope.
Foot pumb
repair kit
spare bung and pocket
Seat with bag

Sail wardrobe
Main sail in New condition from North Sails. New single laminate 3Di style (2017).
North Genoa Sail 150% on forestay, new in June 2015 as new
Prior Storm sail on inner forestay, new in September 2012
Spinaker 2006
Anchor sail

Rigging
New 3/8" forestay April 2012
New 3/8" inner forestay September 2012
New 3/8" Backstay June 2012
Side stays 316 SS 3/8" and 5/16" installed in 2007
Profurlers on both forestays
Boom bag (new in July 2011)
2 spinnaker poles, one SS and one Al.
spare wire for replacement of lower shrouds.

Accommodation
A large rear double berth with private head/shower
A V double birth with head and shower.
A central saloon double. This is possible using the custom made mattress that covers the lowered table. A curtain system provides privacy.
A 170cm single birth on side seat.
LED lights in main saloon and berths.

Navigation
Charts of eastern Queensland and Western Australia plus Pacific and Caribbean
Electronic C-map chips for most of world
Case of CDs containing the images of many charts around the world
2 spare hand held GPS
Chart light
JRC plotter 'Radar 1800' that includes radar and is interfaced to the autopilot
GPS mounted in office interfaced to HF
Navigation tools such as divider etc
TackTic wind speed indicator (appears faulty).
SIMRAD auto pilot with spare oil for linear drive and spare hydraulic ram

Communications
Icom HF M802 using back stay as antennae
Icom IC-M402 VHF with cockpit extension
Icom IC-M23 handheld VHF
Iridium Satellite phone in cradle with handset including computer interface cable.
External arial for mobile phone such as Telstra ZTE T165I

Galley
Gimballed Tasco gas oven and 3 burner stove.
2 part sink
filtered water tap
bench top extended hose
Hot and cold water. Hot water from main engine heat exchange or electric booster.
Very large freezer and smaller fridge. This configuration is run from an Ozefridge eutectic system. The freezer can be tuned to be a fridge. The fridge is cooled by a thermostatic heat exchange fan.
Knife block
various pots and pans
several frying pans
Mixing bowl and mixer tool
Vacuum packer unit
Cups, plates, bowls, wine glasses for 6 people
Oven trays and baking dishes
Serving bowls and large plates
Water filter jug
Numerous cleaning pastes and sprays
Gas Force10 BBQ mounted on cockpit
Spice racks.
2 4kg galvanised LPG gas bottles
1 by 10kg galvanised LPG bottle used for BBQ
dust pan and broom
manual water foot pump for sink

Tools
numerous 110V electric tools such as sanders, jigsaw, Dreml, heat gun.
Numerous hand tools including clamps, hacksaw etc.
Spare screws and bolts of assorted size.
Calipers
grease gun
large bolt cutters for removal of rigging if need be.

Office items
Original manual describing the yacht set up
Brother MFC-J415W printer Scanner Fax
Manual for the 4KVA generator
Manual for the Yanma engine
Manual for the Water works water maker
Manual for Autopilot
File folder of all the manuals for most gadgets
Head sets for local communications, such as anchoring.
Cobra UHF handhelds
Ledger of all expenses for the last 10 years
Folder of all receipts for the last 10 years
Ledger of maintenance conducted
Ships logs for the last 12 years
Marine radio manual

Waste
Electric toilet in rear head
Manual toilet in front head
Holding tank plus pump out capacity with macerator
Spare manual pump assembly

Electrics
2 by 150AH batteries, new in August 2015
1 starter battery
Inverter Xantrax 110V 3000 Watt
4KVA 110 V Apollo generator KAPUT!! I now use the Honda portable but not included.
3 by 85 watt solar panels
1 400W Air Breeze wind turbine
Spare kit for wind turbine
240V inverter
Battery charger for starting battery from the generator
spare alternator
Known issues

Things that need to be replaced/attended to.
Inboard 4KVA genset needs replacement. Either stick to a portable like Honda 20ei or replace with another inboard diesel. Service outboard and possibly switch for smaller version. Take the boom bag to Lex Prior in Townsville and ask for the various wear and tear to be fixed. Manual whaler seems to have a leak
Rear shower discharge has an air leak
Separate cleats for the inner forestay

Townsville Yacht & Boat Brokerage has been providing yacht, boat, berth, insurance, valuations maintenance, charter and delivery services since 1985. We cover all of Australia.
---
Hull Material
Fibreglass/GRP
---
SELLER DETAILS
Broker / Dealer
Townsville Yacht & Boat Brokerage

Address
Breakwater Marina Mariners Dv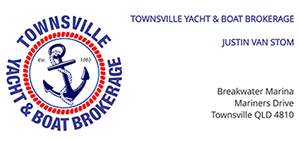 View all boats for sale by this dealer
MORE BOATS FROM TOWNSVILLE YACHT & BOAT BROKERAGE