2018 VIPER WORLD CHAMPIONSHIPS - PERTH !
3 March 2017
Go Back to Newsfeed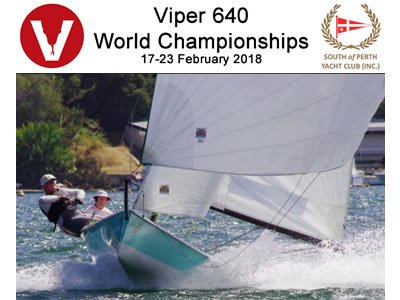 The International Viper 640 Class is pleased to announce its next World Championship Regatta from February 17 - 23,2018 at South of Perth Yacht Club, Western Australia. Over 40 Vipers are expected to compete in the Regatta.
SoPYC is one of the largest yacht clubs in Australia with more the 2,300 members and truly magnificent world class facilities. Commodore Mr Mark Nicholas said "We are very excited to be hosting the Viper 640 World Championships".
The Viper is a remarkable boat and we see it as one of our core future classes. The Viper 640 Australian Class president Graeme Monkhouse said, "We are aiming to host the largest Viper regatta ever outside of North America with 20 local West Australian Vipers eager to go against some of the best Viper sailors coming in from around the World".
International Viper 640 Class Becomes the Newest World Sailing Class In November 2016, World Sailing approved the International Viper 640 Class's application to become a recognized World Sailing class. The International Viper 640 Class Association, at the same time, adopted an international constitution and signed a contract with World Sailing confirming the Class's international status.
Commenting on the completion of this process, Viper 640 Class International Chairman Justin Scott said, "We have fleets in three continents and a circuit of destination regattas over the next three years that span spectacular locations across North America, Australia and Europe. The Viper 640 is now truly an international one-design class. " Jason Smithwick, World Sailing's Director of Technical and Offshore, added, "The Viper 640 combines an excellent boat and a solid international organization with great sailors that enjoy each others company both on the water and off. We are delighted to have the Viper 640 class join the World Sailing family. "
Contact Australian Viper 640 Class President Graeme Monkhouse graeme@monkhouse. Net. Au or Rondar Raceboats, (www. Rondarboats. Com).