Beneteau Oceanis 51.1 World Premiere
26 September 2017
Go Back to Newsfeed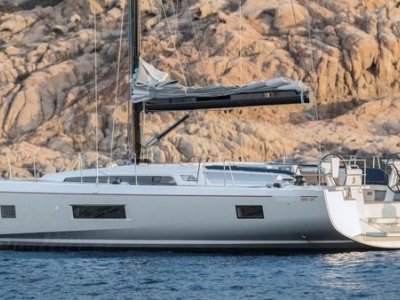 There were ripples of excitement through the crowd as the stunning new Beneteau Oceanis
51.1 was officially unveiled this week at Cannes Boat show. Oceanis is the best selling
production yacht ever and with the 51.1 Beneteau designers have honoured many
much-loved Oceanis design features while setting new trends with a revolutionary new hull
shape.
The dynamic 'tulip-shaped' hull delivers speed, stability and unrivalled volume. The new hull
provides maximum volume above the waterline yet minimal wetted surface below the
waterline. Beneteau promise this model to have an incredibly comfortable ride while sailing
much faster than any of her forerunners.
As the exclusive NSW Beneteau dealers, Flagstaff Marine's Graham Raspass and Micah
Lane were at Cannes for the much anticipated launch. They were amongst the first to step
onboard and are super excited about showing her to the Australian market.
In the words of Graham Raspass
'There are 3 models available in the new 51.1; Smart, Comfort, and Performance. We knew
the demand for this boat would be high and we were able to were able to secure two boats
from the initial 12 months of production. Both boats have already been snapped up by
Sydney based Flagstaff clients who came along to the launch.
'The first arriving in July 2018 is a First Line Performance version and will be on display at
the Sydney International Boat Show in 2018. The second is the Comfort - cruising version
and arrives in September 2018. We are really excited the about the impact the 51.1 will have
on the Australian market, it's a perfect yacht for our waters. '
Contact Flagstaff Marine on 1300 998 662 or enquiries@flagstaffmarine. Com. Au