Boat Show Success For Swan Super Lines
6 July 2017
Go Back to Newsfeed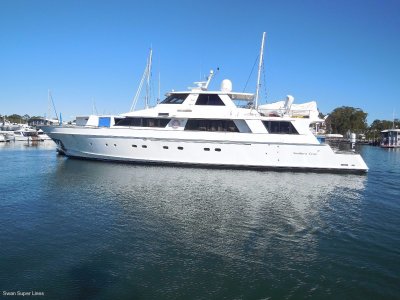 SSL is celebrating the sale at the recent Marina Mirage Boat Show of the iconic Lloyds-built Southern Cross II, built for Alan Bond to support his America's Cup campaign in 1983.
"We are very satisfied with the results of the Marina Mirage Boat Show, held during 'boat show week' on Queensland's Gold Coast, " said SSL director, Ian Swan. "The sale of Southern Cross II is our third sale of a Lloyds' ship in three years, following on from Corroboree and Dreamtime. "
Built by Lloyd's Ships Holding Brisbane and designed by one of the most respected Naval Architect in the world, Jack Hargraves, Southern Cross II earned its place in the fleet of legendary Australian vessels. Southern Cross II comprises three staterooms, each with ensuite midships on the lower deck, while crew quarters are forward. In 2004, its owner spent more than one million dollars on new engines and upgrades. A proven world traveller, Southern Cross II has crossed the Atlantic under her own power, cruised the Mediterranean, circumnavigated Australia, travelled Brisbane to San Diego and returned via Acapulco, Tahiti and Fiji. Coinciding with SSL rebranding, including new website and corporate livery, SSL and Mick Ellison of Mano's hosted the traditional OUT OF THE BLUE function during boat show week, an important networking event raising much-needed funds for local children's charity, Paradise Kids, which supports children experiencing trauma, grief and and loss. Charter partner, Crystal Blue Yacht Cruises hosted Sunset Cruises from Marina Mirage, which proved extremely popular, particularly with the balmy weather in May.
"2017 has proven to be brilliant so far, " said Mr Swan. "There is a growing interest in vessels in Survey, which is complicated with the new system, but we have navigated our way in this area, dealing with ASMA regulations, and can assist clients looking for motor yachts for charter. We are gearing up with our arms throughout Australia for a massive second half of the year. "