Boutique Boat Company now importing Nuova Jolly
30 May 2016
Go Back to Newsfeed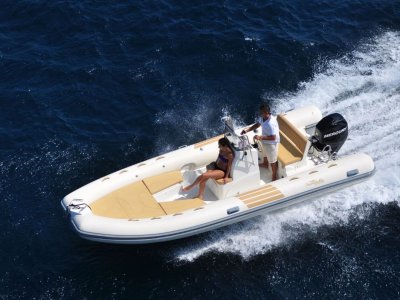 The Boutique Boat Company would like to announce they will now be distributing "Europe's most seaworthy rigid inflatables", Nuova Jolly.
Domenico Aiello created the first Nuova Jolly inflatable back in 1961. In his quest for perfection, he tested each new model in difficult conditions, to guarantee the highest quality of materials, assemblies and dynamic qualities.
With 50 years of experience and 5000m2 factory situated on the outskirts of Milan, Nuova Jolly Marine has become the leading brand in Europe for its high end rigid inflatable boats.
Nuova Jolly Marine offers a full range of rigid inflatable boats from 5 to 13 meters, acknowledged by the public for the safety, quality, longevity, ingenuity and exceptional marine qualities of each of its RIBS.
The construction of the Hull is Fiberglass with crossed arrangement to ensure an extreme rigidity of the hull in favour of seaworthiness and longevity. The Hull technology boasts a deep V with exceptional handling to ensure comfort and safety even in rough seas.
All tubes are made from Neoprene-Hypalon, which offers excellent UV and hydrocarbons resistance, and first class quality fabrics which come from the world's leading manufacturer to ensure maximum strength of the tubes.
Nuova Jolly out-classes other RIB brands and is a leader in the industry.
The NJ530, NJ550, NJ585 GT and the Prince 21 are the perfect centre console run about to cruise the water ways in style or to accompany your superyacht as a reliable tender.
Accompanied with Yamaha outboards these models will make waves at the Australian Debut at The Boutique Boat Company Boat Show at the Rose bay Marina on July 28th- August 1st.
For more information please contact Boutique Boats on 1300 777 879