Innovative New Hanse 588 - First Model in New 8 Series
17 August 2016
Go Back to Newsfeed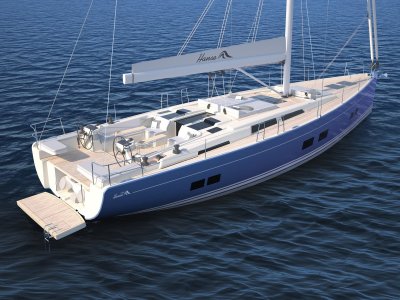 German yacht builders, the Hanse Group have released the first model in their new 8 series – the Hanse 588. This 17m (58 ft) model is an innovation in yacht building and design. It offers all the space and luxury buyers expect in a large yacht, yet it is easy to handle. It introduces several new impressive design features - including a unique "Silent Master Cabin", new hull design, updated interior design and the choice of 72 possible layout combinations.
World leading designers, Judel/Vrolijk & co have taken their design flair to another level with the introduction of the unique 'Silent Master Cabin' in the bow. This innovative yacht building transforms the master bedroom into a 'sanctuary'. Here, the specially developed insulation shields buyers against yacht noise as all pumps and devices have been re-located to other areas. Even the air-conditioning unit is encapsulated so buyers can drift to sleep in peace and in the perfect climate.
The Hanse 588 also features a new hull design with six hull windows conveniently positioned at eye level from seating areas. These combined with the skylight of almost 3 square metres and twenty ventilation hatches provide plenty of light and air below deck. The flat deck conceals the large volume of this yacht, which also includes a spacious, easily accessible dinghy garage, big enough for a Williams Tender 280. There are also optional additions for the exterior such as a T-Top with built-in entertainment system or a BBQ bar in the cockpit with integrated grill, sink and freezer.
In the words of Windcraft's Peter Hrones, "The Hanse Group consistently lead the way in production yacht design and the 588 - the first yacht in the new 8 series is the perfect illustration of that. This yacht is ideal for the market Downunder with its sleek design, heaps of light and space and even a front loading tender garage. The new 588 interior is simply stunning. The brilliantly modern styling will work perfectly across the entire Hanse range.