Melbourne City Marina National Whittley Regatta 27 February - 1 March 2020
28 January 2020
Go Back to Newsfeed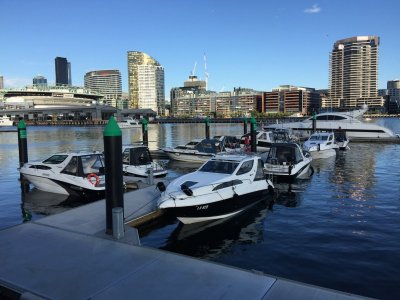 The National Whittley Regatta organising committee have chosen Melbourne City Marina for their boating event on 27 February to 1 March 2020.
The regatta is open to all Whittley boat owners in Australia and involves four days of land and water-
based fun in Melbourne. The gathering provides a sociable environment for Whittley owners to come
together to enjoy the atmosphere and company of like-minded owners from around the country.
This year, the organising committee are expecting close to 80 boat crew to join the Whittley
entourage. Previous events have been held on the Murray River, The Hawkesbury River in NSW and
Couran Cove in QLD The 2020 regatta event itinerary is packed with dinners, city sightseeing activities and exploration of the rivers and Port Philip Bay. The event is anchored by three main cruises; the east side of Port Philip Bay, the Maribyrnong River past the Flemington Racecourse, the Yarra River and the northwest side of the bay to Wyndham Harbour, where guests will visit the Werribee Open Plains Zoo.
The journey will showcase the city, its waterways and the abundance of activities the Docklands and
CBD offers for visitors arriving – and staying in Melbourne by boat.
Upon entering the calm waters of Victoria harbour, participants will navigate past the Heritage Fleet
moored up at North Wharf and into an unrivalled inner-city location. Surrounded by the iconic
Melbourne Star, Marvel Stadium and the expanding Docklands water-front dining district, event
participants will be in the heart of it all.By night, guests staying at Melbourne City Marina will enjoy a glittering city skyline to one side and a sunset sky blazing behind the Bolte Bridge on the other.
On the last night of the event, there will be a farewell dinner with band entertainment to close a jam-
packed long weekend of boating goodness.
If you have a Whittley boat and would like to attend the 2020 regatta, registrations are still open.