Princess 35M Wins World Superyacht Award
25 May 2016
Go Back to Newsfeed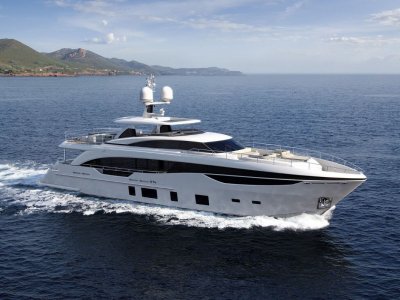 Superyacht Awards in the Semi-Displacement & Planing Two Deck Motor Yacht category.
Boat International said: "The judges particularly admired her exterior design, which incorporated a variety of functional areas in which to relax and dine, as well as her contemporary yet ageless interior. Additionally, the judges found a high quality of construction and excellent technical, service and crew areas. A well balanced yacht indeed. "
This is not the first time a Princess M Class has been honoured with an esteemed World Superyacht Award. In 2013, Imperial Princess, a Princess 40M took home the prize in the Three Deck Semi-Displacement & Planning Motor Yachts category. With such prestigious awards under the belt of Princess Yachts year after year it is no wonder they are one of the finest luxury yachting brands in the world. From the design to the build to the styling of the Princess 35M the entire team at Princess accomplished something extraordinary once again.
For more information on the Princess 35m please contact The Boutique Boat Company on
1300 777 879 or email erica@boutiqueboats. Com. Au