The Relentless Rise of Hanse Yachts
24 November 2016
Go Back to Newsfeed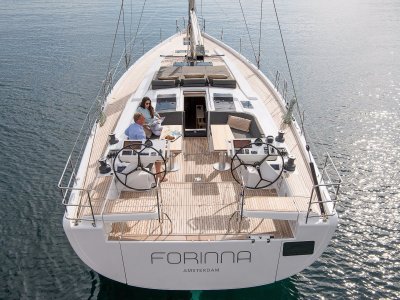 Hanse is the German yacht brand that has rocketed the Hanse Group and Team Windcraft to spectacular success over the past couple of decades. The upward trend looks set to continue thanks to a recent 12 million Euro investment in new manufacturing technology by the Hanse Group and the launch of the newly designed Hanse 8 series.
The brain-child of Michael Schmidt, who won the Admrial's cup in 1985, Hanses were always going to be sailors boats. Many experienced yacht sailors choose Hanse because of the responsive handling and superb sailing experience. Schmidt favours the high aspect rig plan with a large mainsail and a smaller headsail. The trademark Hanse original self-tacking headsail is intrinsic to the overall yacht design and has been widely copied over the years.
The wide range of sizes from 31 to 67 feet means there is a Hanse yacht for everyone from beginners and entry level sailors right through to experienced and blue water cruisers and racing sailors.
According to Team Windcraft's Mary Bickley
"The Hanse 455 is the boat of the moment with over 200 now launched worldwide. We placed 4 into New Zealand alone during the recent Auckland boat show. Our owners love the huge cockpit and the fact that this boat sails so fast.
"The fun and sporty Hanse 315 is proving so popular with new sailors that we've created a unique beginner's package to include first year essentials like sailing and berthing lessons, safety training and servicing.
"And at the other end of the spectrum, we're also really excited about the new Hanse 588 - the first of the new Hanse 8 series. New features include a powerful new sail plan, more windows than ever and a newly designed ultra-modern interior. The first images have just been re
leased and it looks simply magnificent.
"I've always loved the Hanse brand, but this a particularly exciting time to be working with these wonderful boats. "
The large Hanse yachts are setting