Whitehaven Expands With Integrity
3 August 2017
Go Back to Newsfeed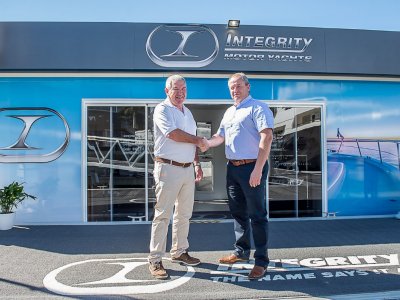 Whitehaven Motor Yachts has purchased Integrity Motor Yachts, aiming to consolidate and develop the strengths of the Integrity range and extending its reach to cover the full spectrum of the market.
Brett Flanagan and his team have invested in building a segment-leading range of motor yachts that have carved out a unique position in the market.
"We create boats that tick all the boxes for Baby Boomers looking for value for money, low-maintenance, long range motor yachts.
"We have always been extremely responsive to clients in terms of after sales service. That's the reason we are where we are today. Our clients turn into friends and they know they can rely on us at all stages of boat ownership. "
Brett described the move as "fantastic for both companies". "I am looking forward to a new era for Integrity and watching the brand we have built evolve, " he said. "Since the start, I have been running the business myself, funding everything with my own money. Whitehaven have the team and the resources to take Integrity to the next level, with international distribution to the US under consideration. They already have new models in the pipeline which look absolutely sensational too. They will knock your socks off!"
Whitehaven's experienced and proactive team of industry professionals bring the strategy and funding to leverage the marketshare and momentum of the highly-regarded Integrity Motor Yachts brand and product range.
Synergies in the brands' ethos and values ensure both will benefit from sharing resources across the sales, marketing and production functions.
Commenting on the deal, Whitehaven co-founder, Ryan Hanson said management has "exciting growth plans in the short-term, among them a selection of new models, with details to be announced soon".
For comments and further information contact Peter Pembroke Tel: 0411 965 847.