Wyndham Harbour Marina: Australia's newest marina, destined to be its largest
23 September 2017
Go Back to Newsfeed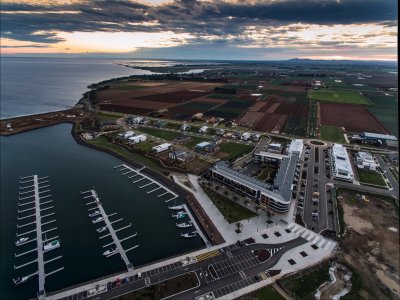 Burgeoning waterfront community and boating destination, Wyndham Harbour Marina is well on its way to becoming the country's largest, offering boaties convenient and central access to all of Port Phillip Bay and staking its claim as a sensational base for fishing, sailing and cruising.
Just 30 minutes' drive from the Melbourne CBD, Wyndham Harbour is the only safe harbour between Williamstown and Geelong along the northwestern shores of Port Phillip. Stage one is completed, comprising 150 marina berths, from 10m to 20m, café and waterfront apartments and housing for 1,500 residents.
Once all stages are complete, Wyndham Harbour will be a thriving lifestyle destination for locals and visitors, offering state-of-the-art facilities: 1,000 wet berths and an undercover dry stack for 390 boats, together with service and repair yard, 24/7 fuel dock and a private boat ramp exclusively for marina members and residential community.
At the helm is Marina Manager, Darren Finkelstein who has a life-time of boating experience behind him and is in his element at the burgeoning Wyndham Harbour. The award-winning bestselling author of the "Honey, let's buy a BOAT!" series and 3AW 'Beach 'N Bay' presenter ran St Kilda Boat Sales and Service Centre with his business partner Andrew Rose for 15 years, selling it the business in July 2017.
DIP A TOE IN: For just $250, boaties can enjoy a one-month trial of the Wyndham Harbour experience: convenient boating, access to the middle of the Bay, no parking hassles, any time of year, any size boat. No strings attached.
For enquiries contact Darren darren@wyndhamharbour. Com. Au or Tel: 0418 379 369.